Aer Lingus Launches Birmingham To Knock Service
Aer Lingus launches Birmingham to Knock service by Cheap Flights Booker UK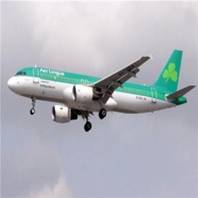 Aer Lingus Regional has boosted travel accessibility between the UK and Ireland with the introduction of flights to Birmingham from Ireland West Airport Knock.
The Aer Arann-operated service will run daily from County Mayo in western Ireland to England"s West Midlands region.
Aer Lingus director of communications Declan Kearney said the airline was "delighted" to add the route to its network and is looking forward to welcoming an increasing number of passengers in the future.
Sean Brogan, Aer Arann"s interim chief executive, commented: "We recognise the vital importance of regional air connectivity and the key role that this air link to Birmingham provides for business, tourism and leisure travel."
The connection to Birmingham has long been one of the most established routes available from Ireland West Airport Knock, said Joe Gilmore, the base"s managing director.
Aer Lingus" network also includes a range of services to continental Europe, including flights to Barcelona, Malaga and Faro from Belfast.
For Cheap Flights Booker UK
cheap flights
call 0207 096 1130 to book your flights with Cheap Flights Booker UK and let your journey begin!